Faber Appliance Repair Parts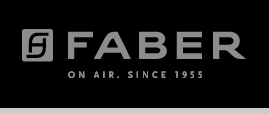 #1 Source For Guaranteed Parts for Faber Range Hoods
1 - Find your model number below.
2 - Click on your model number. (A parts diagram will open up)
3 - Identify the part and part number and use the search field above to locate it.
If you can't find your part or model number we'd be pleased to assist you
*Please note that replacement Faber parts purchased from us are not eligible for return.Parts breakdowns are for reference only. Please call with serial number to ensure correct part choice.*
Or
Call us toll-free at:
1-855-472-4443
Italian Range Hoods:
A streamlined shape makes their range hoods an updated alternative in canopy island and wall range hoods.
-LED digital display with touch controls
-10 minute intensive speed
-30 minute delayed shut down mode
-Silent Kit sound-proofing
-Convertible to a ductless range hood
-Easy cube motor access
-Modified pro depth